Northern New Mexico currently is on emergency notice as a wildfire rages the mountainous terrain near Ute Park Fire.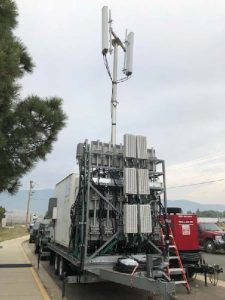 As of Saturday, Kit Carson Internet (KCI) supported the set up of a mobile Cell on Wheels to provide cellular and data service to the command center in Eagle Nest. The company's staff worked Friday night and into Saturday to restore Internet and cell service, which were affected by the fire. Reestablishing service in such a short turnaround time was only possible by a new level of collaboration.
KCI is extremely grateful for the partnership between Blanca Networks / Jade Communications, SECOM, VIAM, and Fast Track. The Ute Park Fire severely impacted Kit Carson's members, residents and emergency personnel. Under these adverse conditions, it was the collaboration between our partners that allowed KCI to keep, divert and restore data and voice communications within 26 hours. The Ute Park Fire had caused damage to another company's fiber line, which took cellular lines down. This affected emergency services' ability to effectively communicate with their crews. KCI has now established a fully independent and redundant communications path.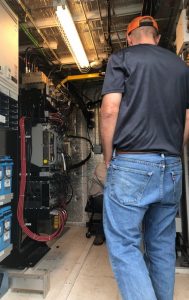 "Blanca Networks / Jade Communications were notified of the out-of-control wildfires in KCI's service territory. Being good neighbors from Colorado, we wanted to help in any way possible to provide the necessary tools for emergency services to fight the affects of this dangerous fire. Working with KCI, Blanca Networks / Jade Communications worked diligently to restore and provide Internet and cellular service to KCI customers with Internet and cellular service in these rural communities. We reached out to our upstream partners, SECOM, requesting allocation of additional capacity to accommodate KCI Internet traffic during this disastrous time. Therefore, KCI, SECOM, and Blanca/Jade worked in conjunction day and night to connect rural customers in need. We appreciate our good friendship with KCI and look forward to working with them in the future," said Alan Wehe of Blanca Networks / Jade
Communications.
As the Ute Park Fire is currently zero percent contained, the crews remain on the ground prepared to serve.
"VIAM is honored to play a critical role in telecommunications service restoration and ongoing service delivery with Kit Carson Internet and our other valued partners in the region. We will continue to provide our support to the impacted communities as this event unfolds and long afterward," said Jeff Johnson of VIAM.
"Without the help and collaboration of our partners such as Blanca Networks / Jade Communications, SECOM, VIAM, and Fast Track, Northern, NM would still be without voice and data communications. When the one incumbent provider line that serves the area went down, the entire area was negatively impacted. All partners worked nonstop around the clock for twenty-six hours until communications were restored. Having the ability to bring up a 10Gb circuit in this extremely short period of time took a great deal of effort and collaboration. A typical scenario would have taken weeks if not months to
restore alone. We are extremely appreciative of everyone's willingness to help during this extremely regrettable event," said Andrew Gonzales.
KCI, a division of Kit Carson Electric Cooperative, worked collectively as a team to serve their members in situations such as the Ute Park Fire. The crew's, working 24 x 7 x 365, offer fiber optics in some of the most adverse and remote areas of Northern NM. During this type of event, it is a testament to how rural electric cooperatives can offer life saving services to its members while creating unique and beneficial partnerships.
"Kit Carson Internet, Blanca Networks / Jade Communications, SECOM, VIAM, and Fast Track would like to send our best wishes to all those displaced by the fire and worried about their families. We will do all we can to assist emergency personnel in their continued and diligent work."
For more information, please contact: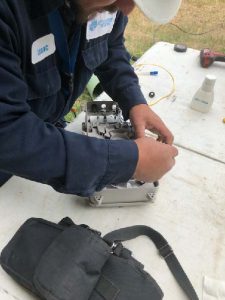 Andrew T. Gonzales
Division Manager
Kit Carson Internet
(575) 758-4838 Office
(575) 779-4408 Mobile
agonzales@kitcarson.com
Jeff Johnson
VIAM
2770 Arapahoe Road
Suite 132157
Lafayette, CO 80026
(303) 324-6779
Website: www.viamtelecom.com
Alan Wehe
Blanca Networks
129 Santa Fe Avenue
P.O. Box 1138
Alamosa, CO 81101
Voice: 719-379-3839 | Fax: 719-379-5233
Website: blancanetworks.com
alanwehe@gojade.org