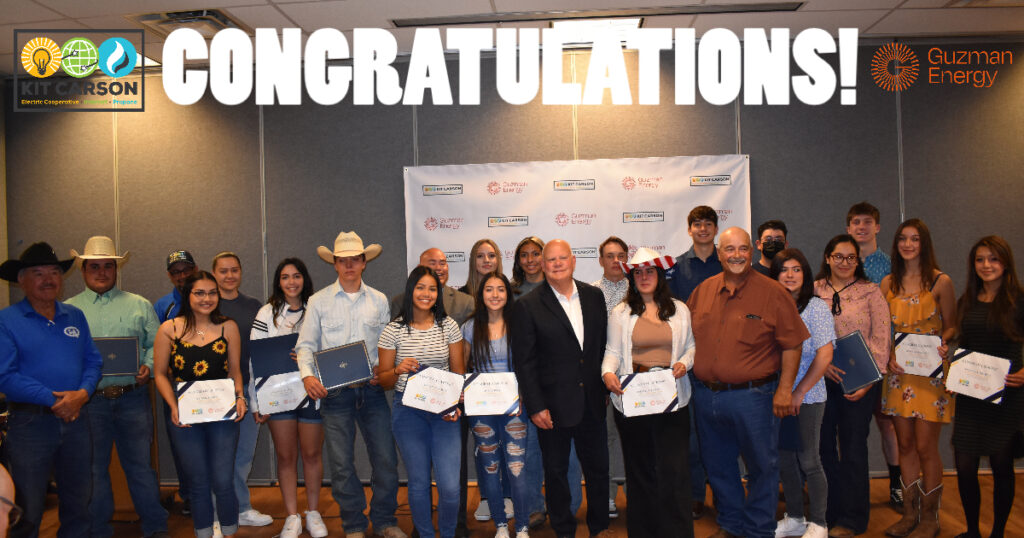 Kit Carson Electric Cooperative and Guzman Energy Grant Scholarships for New Mexico Students
TAOS, NM – May 20, 2022 – Kit Carson Electric Cooperative (KCEC) and Guzman Energy have partnered for the fourth year in a row to provide scholarships to selected northern New Mexico students to help them successfully transition to their continued education after high school graduation. This year, 26 students will each receive a $1,500 scholarship.
Over the past three years, Guzman Energy has helped bolster the KCEC Foundation scholarship program. Since 1997, the KCEC Foundation has awarded more than $600,000 in scholarships to students throughout its territory, giving them the financial support to help them successfully transition into their college careers.
Over the past four years, Guzman Energy, the cooperative's wholesale power provider since 2017, has bolstered the scholarship program by contributing $80,000 for an additional 80 students.
"Taking the next step toward continued education is a big transition, and we are honored to help these students get started on the right path," said Jeffrey M. Heit, Principal and Managing Director, Guzman Energy. "Education is so important in building a strong community, and we are committed to helping the communities served by Kit Carson continue to thrive."
"We are grateful for Guzman Energy's support of our scholarship program to help these young adults succeed as they continue their education," said Luis A. Reyes, Jr., Kit Carson CEO. "They have been a true partner not only for us, but for our community overall."
Guzman Energy has helped KCEC move closer to its goals of becoming one of the cleanest, most cost-effective energy cooperatives in America, and providing 100% daytime solar energy. Working with Guzman Energy, KCEC has deployed a solar plan to build arrays and battery storage within the co-op's territory, not only helping to meet the daytime solar goal, but also creating local jobs in the community, as well as stabilizing energy costs for KCEC members.
###
About Kit Carson Electric Cooperative
Formed in 1944, Kit Carson is a member owned electric distribution cooperative in northern New Mexico and is the second largest cooperative in the state. Kit Carson is one of 16 electric cooperatives that serve rural New Mexico communities, serving nearly 30,000 members in Taos, Colfax and Rio Arriba counties. To learn more about Kit Carson, visit www.kitcarson.com.
About Guzman Energy
Guzman Energy is a wholesale power provider dedicated to communities in search of affordable and reliable energy. We partner with cooperatives, municipalities, companies, and tribes across North America to customize energy portfolios that make economic and environmental sense for today and tomorrow. Together, we are lighting the way forward. Visit www.guzmanenergy.com.