Green Hydrogen Energy Production in Questa
Community leaders, together with experts in the field of renewable energy, have been exploring the feasibility of establishing a green hydrogen production facility in Questa, NM.
In Questa lies Chevron's molybdenum mine, which shuttered its operations in 2014, creating substantial job losses in the region. Presently, the mine is undergoing an extensive environmental rehabilitation process, a journey projected to extend well into the 2040s.
A coalition of stakeholders is now exploring avenues to repurpose the mine's assets and develop eco-friendly hydrogen energy production. Learn more at the Local Energy Action Program (LEAP) website.
Intermediate Feasibility Study
In August of 2023, the U.S. Department of Energy released its Intermediate Feasibility Study results regarding the production of clean hydrogen energy in Questa, NM. Download the study results below: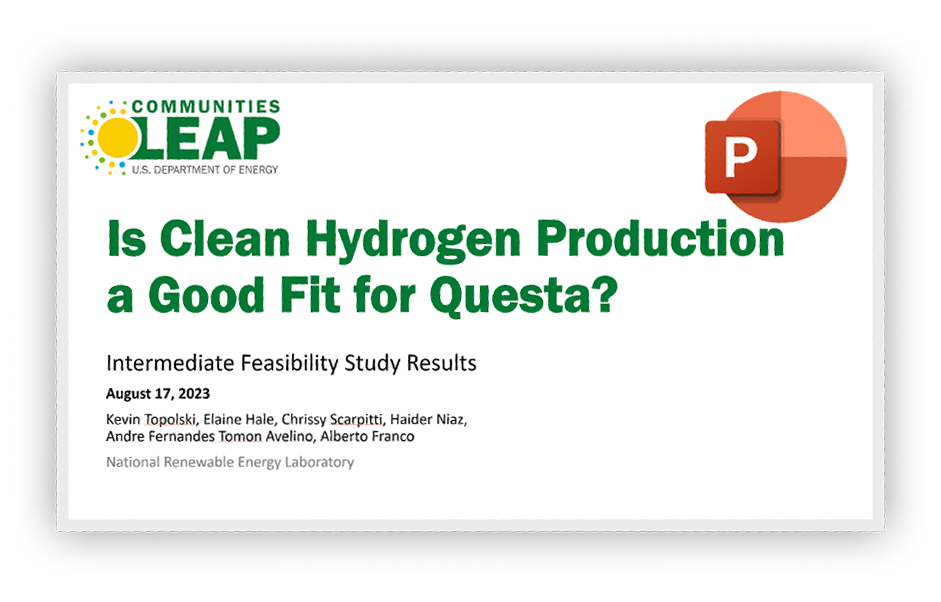 Community Coalition
| | | |
| --- | --- | --- |
| Name | Title | Email |
| John Ortega | Mayor, Village of Questa | jortega@villageofquesta.org |
| Jake Lafore | Project Manager, Village of Questa | jlafore@villageofquesta.org |
| Chris DeFillippo | Village Attorney, Robles, Rael & Anaya | chris@roblesrael.com |
| Luis Reyes | CEO and General Manager, KCEC | lreyes@kitcarson.com |
| Richard Martinez | Chief Operating Officer, KCEC | rmartinez@kitcarson.com |
| Lynn Skall | Director, Questa Economic Development Fund | lynn@questaedf.com |
| Gabriel Herrera | Public Affairs Advisor, Chevron | Gabriel.Herrera@chevron.com |
| Christian Isely | State Government Affairs Representative, Chevron | cisely@chevron.com |
| Mark Urfer | Site Manager, Chevron | Mark.Urfer@chevron.com |
Technical Assistance (TA) Providers
KCEC: Kit Carson Electric Cooperative
LANL: Los Alamos National Laboratory
NMSU: New Mexico State University
NREL: National Renewable Energy Laboratory
WISHH: Western Interstate Hydrogen Hub